Jacksonville Beach Vibe: Zeta Brewing's down with it
Can you spare a share?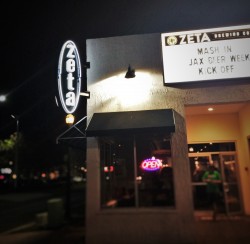 We often tell strangers about Seattle and how the Pacific Northwest is the land of neighborhoods where there is a different vibe in every area.  Each district of the city has its own parks, pizza and breweries.  Breweries.  Many of them.  Everywhere.  Because of this interesting aspect of our northwest culture, we love being out with the kids and trying fun food and great beer (the adults try the beer, duh).  It was a welcome surprise to discover the same in Jacksonville Beach.  Just a few blocks down from our hotel, the Casa Marina, was Zeta Brewing and we'll tell ya', it's got that neighborhood vibe AND some bomb-diggity beers.
The vibe – so, Jacksonville Beach, we'll call it Jax Beach from here on out, is such a cool surf town.  There are surf board racks on the sidewalks.  There are beach access points every few hundred feet.  There are some really weird and really awesome street vendors.  And then there are some pretty hip joints.  Hip?  Yeah, hip is the right word.  Just a block or two off Florida A1A you'll find a bustling neighborhood perfect for a night out.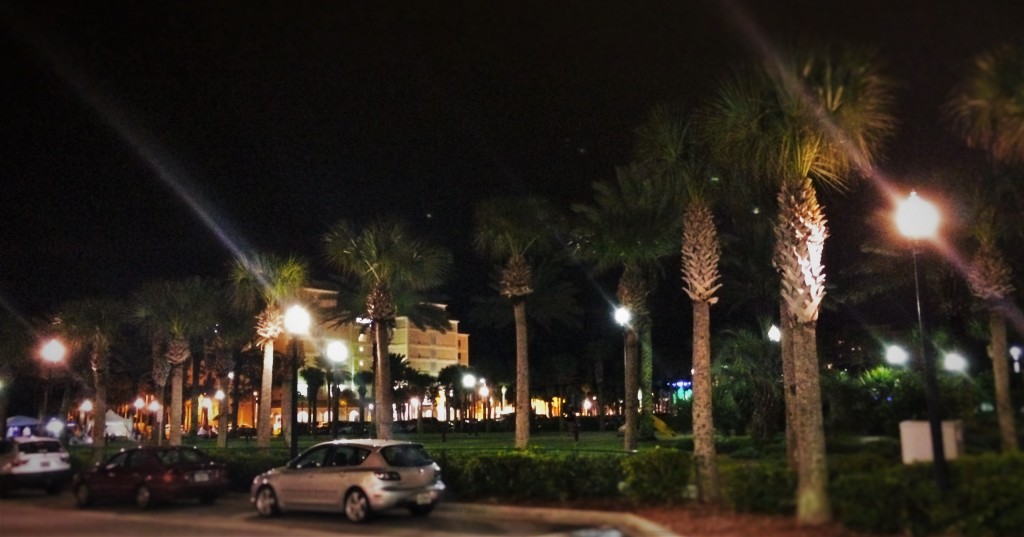 W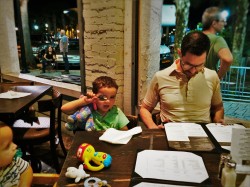 hat did we reallllllllly love about the vibe at Zeta Brewing?  Two things.  We enjoyed having the open air effect from the roll-up windows of the brewery; it was great to be dining and still in the buzz outside.  We also loved the servers who helped us, one of which actually lived up the road from us once upon a time.  Atmosphere and service are all that you need to make a great dining experience, but then add to it…
Good Eats – heading into Florida after a few days in Georgia, we were ready for non-fried chicken food.  Yeah, fried chicken is good and kids love it… but what if it was fried mahi bits?  Yes!  And what if we could have pizza that actually had the flavors of the Caribbean?  And pasta with fresh seafood?  Yes to all.  Being able to dine and get a fresh take on some pretty standard items is great.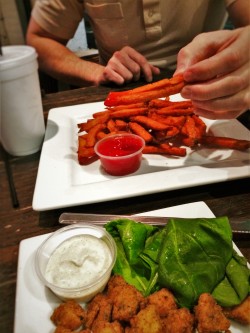 When you're dining with kids, it's nice to be able to offer them something new but that they understand and aren't hesitant about. (check out our dining tips) When you're dining as an adult, you want to see what local flavor actually is.  That's why we really enjoyed our night at Zeta's.
Appetizers (so important):
We enjoyed mahi bits rather than fish 'n chips.  Having a different texture than your standard cod was nice, but then the seasoning in the breading was unique too.  This was a hit with the kids AND adults.

The sweet potato fries were pretty standard, but the dipping sauces rocked.  Actual dinner was the best part.  We always try to order drastically different things so we all can try a variety, and that worked in our favor here.
Kids dining:
Our son loved the mahi bites as an appetizer… so he ordered more for his dinner (smart kid).

For our youngest (1 year old) the kitchen whipped up some roasted chicken and soft cooked veggies from off the menu.  That was awesome, as we face a few food allergies which make dining out a bit stressful sometimes.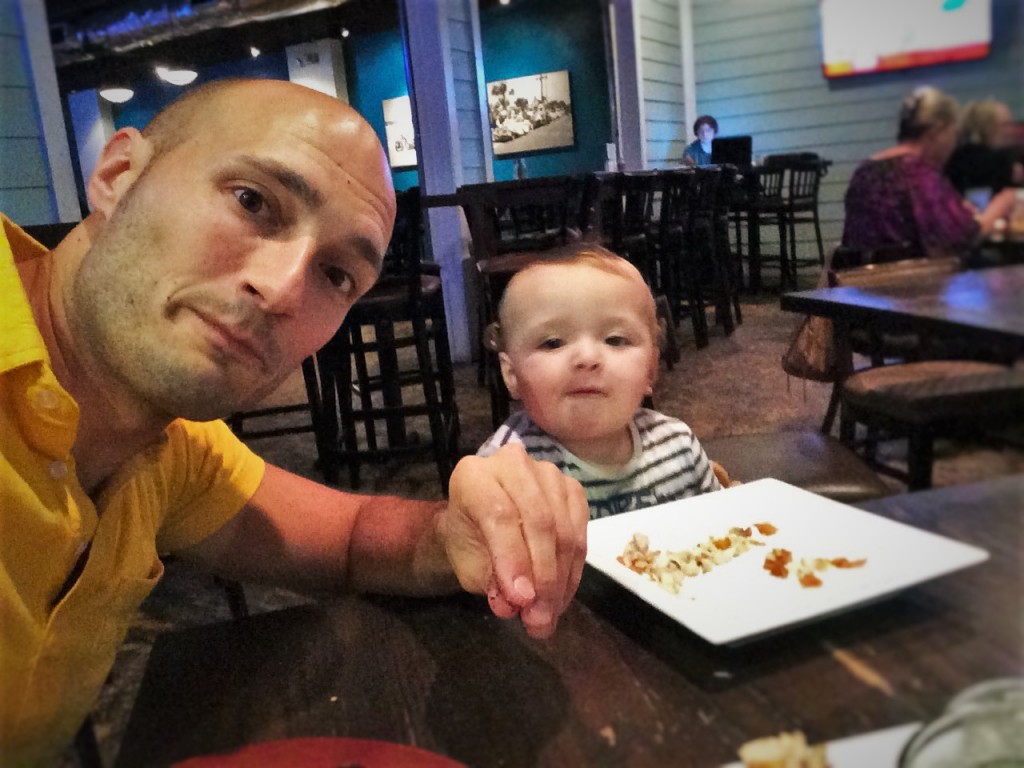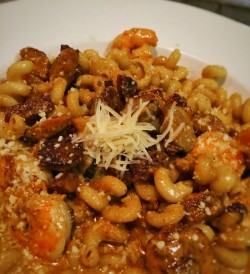 Adult dining:
Pizza or flatbread?  Always a tough question.  Went for the Caribbean Chicken Flat and it was really good.  Like, "be cool with eating so much bread and cheese" good.  We mentioned earlier that finding food with local flavor is one of our favorite travel tries, and well, flatbread AND jerk spices hit the nail right on the head.

We also loved our Cavatappi and Bratwurst Pasta tossed in creole cream sauce.  It was loaded with sausage and shrimp, and all of the flavors mingled perfectly.  Again, the local seafood and local sausage made the meal.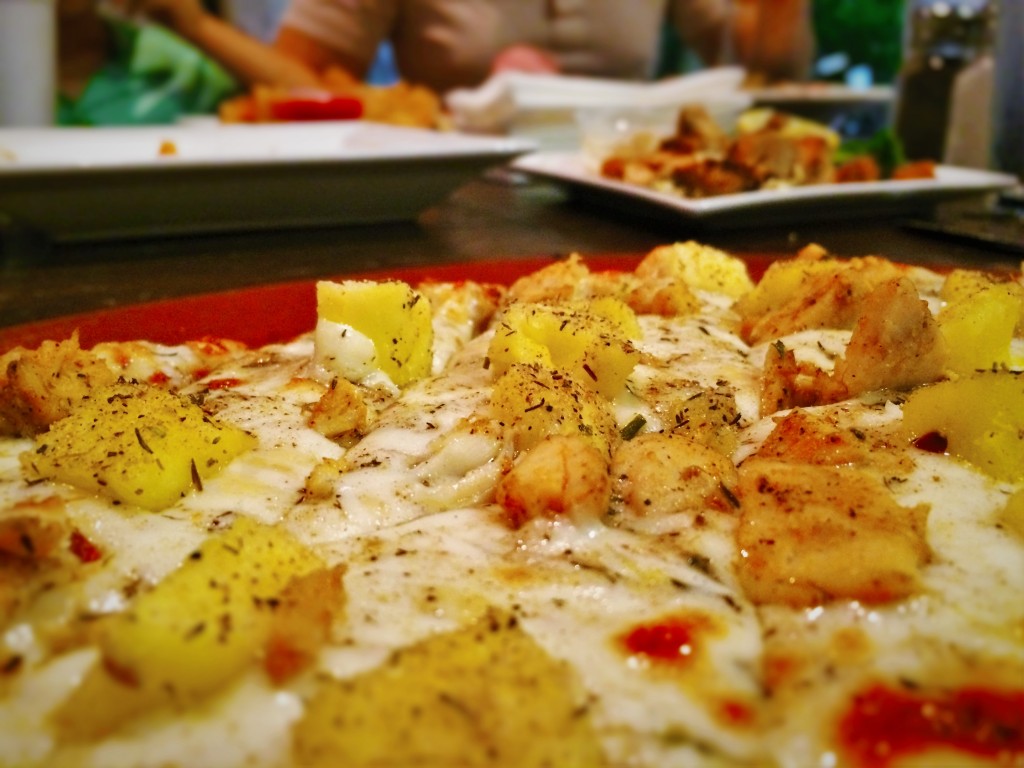 Dessert:
We got dessert because it was offered, but shouldn't have because we were full from the grubbin' dinner… but we did.  We had Bread pudding with Bacon Brittle and a bourbon caramel sauce.  The top was the best part.  Really great flavor and texture.  The bread pudding itself was different from what we've always had.  It was like a bread batter baked in the bowl vs the standard sopping chunks of bread that are then baked.  It was tasty, but totally different than what we were expecting.  The topping did indeed rule the dish.
Note:  if you eat like we did at Zeta Brewing, your pants won't fit after a few days.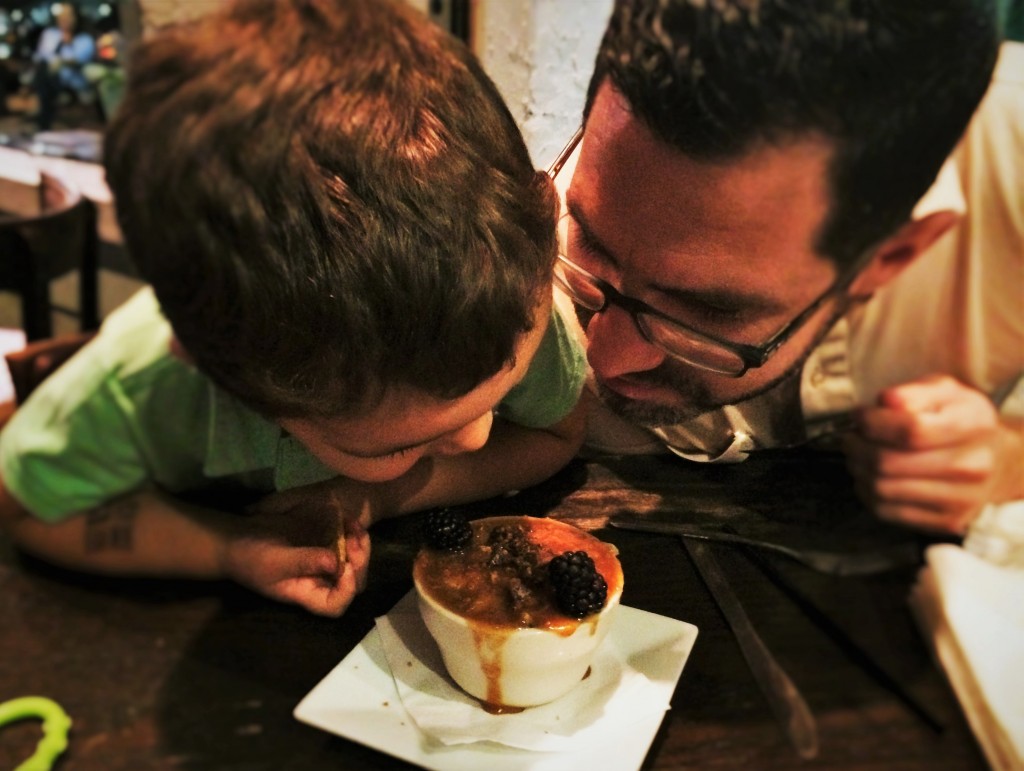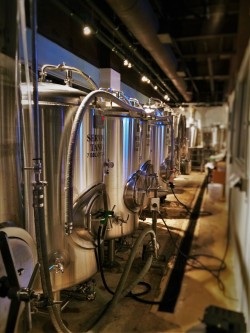 The brewing – we laugh when we enter a "brewery" that doesn't have any semblance of beer production.  You know:  you walk in and there are microbrew posters on the walls and hipsters at the tables, and a manufactured industrial feel.  Thank goodness that's not what we came across when we had our one impression of brewing life in Florida.  At Zeta you actually see the production space and you can tell that it's where the action happens (but it is clean, of course).
A quote right from the brewer's mouth:  "Life is too short to drink crap beer."  Yes.  That's true.  So, being from Seattle we aren't really beer snobs, but we know when beer is gross.  We were glad to try the gambit of beers at Zeta Brewing and not face any disappointment.  Our two favorites:
American Garage – an IPA that wasn't afraid of being hoppy

Twin Finn Lager – your standard lager that actually tasted good and wasn't too sweet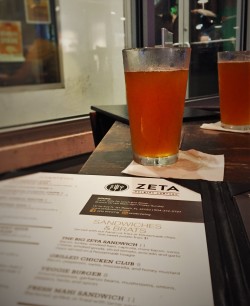 It seems like the west coast microbrewers stay away from a traditional lager, so being able to enjoy one that was not boring, well, it made us question why more breweries don't push the good ol' lager.  Again, we're not beer snobs, but having really good microbrews on the East Coast surprised us.  It was a good surprise.
Jacksonville Beach is such a great neighborhood town.  We really enjoyed dining and beering at Zeta Brewing.  Like we said, it personified the neighborhood feel, the food was great, the staff was awesome, and the beers could easily stand their ground for West Coast microbrew lovers.
Zeta Brewing was a great experience and we will for sure go back when we're back in Jacksonville Beach.  They did indeed host us, but they made believers of us and represented the food and culture of the town really well.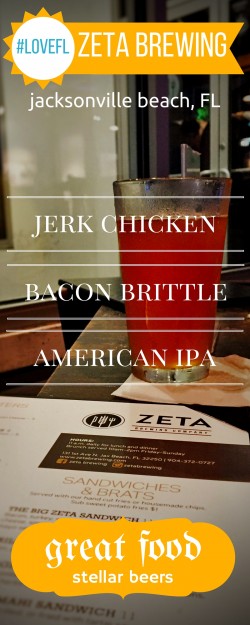 Want to Pin it?  Go for it!!
Can you spare a share?
8 Comments
That's one thing I miss in Washington is the open air dining, and mostly the many days of the year that this can be done instead of a handful. It really lets you feel the pulse of the area. Sounds like dining here was a wonderful experience and the food looks delicious.

December 7, 2015 at 10:43 pm


Agreed! We sometimes opt for outside seating when it's been accidentally offered or left set up. Oh, Washington.

December 8, 2015 at 6:22 am


Lisa

Really enjoy reading your post! The Cavatappi and Bratwurst Pasta sounds devine! Sounds like a great place with amazing foods!

December 8, 2015 at 12:35 am


I think the creole cream sauce was really great too, and what tied it all together. We're attempting our own version this weekend!

December 8, 2015 at 6:23 am


I love eating in breweries and I love eating al fresco. The combination of both sounds marvellous and I never have heard of it before. The food looks delicious as well! katharina

December 8, 2015 at 5:14 am


OMG, BACON?????????????? ON BREAD PUDDING???????????
I want to go to there! I totally agree with you, too, about open air dining. Here in SoCal I try to take advantage of it as often as possible. It was only an option in Louisiana like 2 months out of the year. Soak it up, my friend!

December 8, 2015 at 12:26 pm


Allison (funfamily.vacations)

All of these dishes look and sound so good! We always like to try local restaurants when traveling. I love it that your kids seem to be trying all the dishes too. My husband would love that American Garage IPA.

December 9, 2015 at 7:38 am


While nothing beats Seattle for breweries (at least per capita!), it's really fun to get a chance to try one or two in another city. It's definitely one of our favorite things to do!

December 9, 2015 at 9:58 pm