Exploring Kauai with kids: family time on the garden island
Can you spare a share?
After having gotten to explore Oahu with kids and share highlights and tips from the busiest of the Hawaiian Islands, 2TravelDads is excited to share more ideas for Hawaii! Exploring Kauai with kids is another great way to experience the islands, but at a different pace. And if you're doing a Hawaiian holiday with smaller kids, this is perfect for you!
What you'll find…
by Andy LaBadie
We were so excited to venture back to Hawaii for the chance to visit our third island, Kauai. After five days at Disney's Aulani for a work conference and tons of family fun, we hopped a short flight from Oahu to Lihue (on Kauai) for five more days in paradise.
Nicknamed the "Garden Island" because of its lush landscape, plentiful waterfalls, and beautiful mountainous terrain, from the moment we landed, Kauai did not disappoint. While not on the beach, our hotel was very close to the water and had great views at sunset from the wall of the cliffs across the street. We even spotted several whale spouts on our last night there!
Great beaches on Kauai with kids
Though our hotel had several amazing pools, our kids love the beach so we were lucky to find the aptly named "Baby Beach" a short ten minute walk from the hotel. For doing Kauai with kids, the South shore beaches are great for families because many of them are protected by reefs and do not get the high surf that the north shore has this time of year (winter). The beach was fairly empty whenever we visited and the water was calm, which was great for our little water babies.
There are also lots snorkeling locations on the south side of the island. We took full advantage when the kids napped (Thanks Grandma!) and were able to see several sea turtles (honu) and tons of colorful fish while snorkeling in Hanakaape Bay. Apparently the sea turtles like to hang out in the Waikomo Stream where it enters the Bay. We saw six of them sunning themselves on the shore and many others swimming up and down the stream. You can also get a view of the stream from above on the other side near Whaler's Cove. There are stairs down to the water and a viewing area to watch these great creatures.
Tip:  for more beaches to check out when you're doing Kauai with kids, explore the eastern shore and north to the Nāpali Coast.
Day hikes with kids around Kauai
The south side of Kauai is also home to some beautiful scenery. Never content just hanging out, we took the kids on a hike most days. Our favorites were the Maha'uleupu Heritage Trail near "Shipwreck Beach" and the Makauwahi Cave Trail. The Maha'uleupu Trail had amazing views of the southern coast's cliffs that overlook the ocean. It is fairly common to see humpback whales off the coast here as well as the nene, Hawaii's state bird; no such luck for us though. We did, however, catch a double rainbow (one for each gay Dad I'd like to think).
Tip:  the Maha'uleupu Trail is probably better suited to hike with older kids, as with younger ones you may need to carry them on your shoulders at times.
The second of the trails was about a twenty minute drive from where we were staying in Poipu / Koloa. The Makauwahi Cave Trail takes you through part of a seventeen acre park and has brochures available with marked guide posts for a self tour of the property belonging to the Grove Farm Company.
Following the trail to the cave took us about 25 minutes. The terrain is rocky in some places but we discovered on the way back that there is an alternate path closer to the beach that was much easier to navigate. You enter the sinkhole that contains the cave through a three foot (3′) door, which was quite fun, particularly with kids.
Tip:  before doing the Makauwahi Cave Trail, be sure to confirm that it's accessible. The cave is typically open from 10:00 am – 2:00 pm daily and tends to be staffed with helpful volunteers who can tell you all you want to know about the cave and area.
After leaving the cave we learned, to our surprise, that right across the bridge from the cave was a tortoise sanctuary. You simply climb over the fence on the provided stairs and enter "Lida's Field of Dreams" which is home to several to Giant Tortoises as part of a project to help control weeds in a native plant restoration area. We all loved this part of our hike the best! Quite the gem to find when doing Kauai with kids.
Other interesting and fun activities to do on Kauai with kids include the botanical gardens, beaches of the eastern shores, waterfall hiking at Wailua Falls, and taking the Scenic Route along the Nāpali Coast.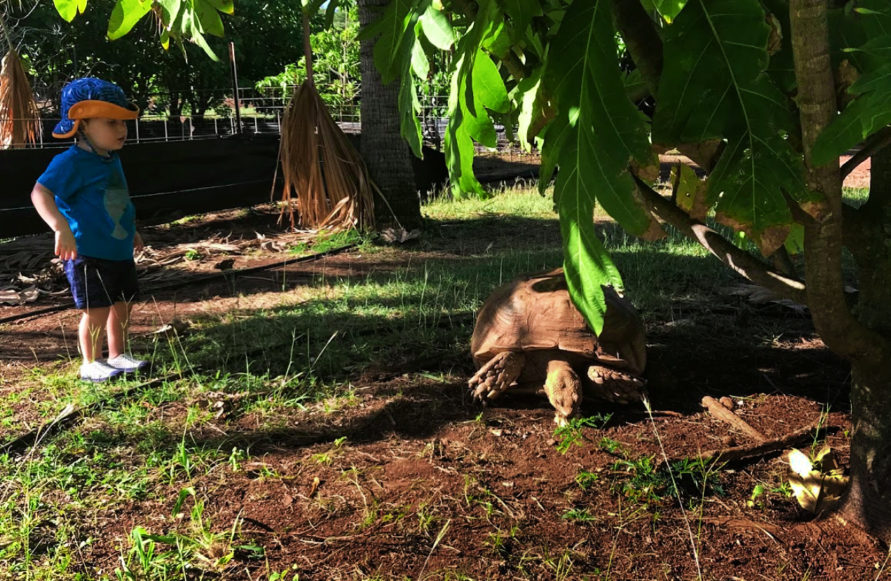 Dining around Kauai
And food. I would be remiss if i didn't mention food. While we did cook in often, we also ate out several times. Close to our hotel in the Kukui'ula Village Shopping Center we found Living Foods, which had all of our grocery necessities, as well as a kitchen and coffee bar. The shopping village also had several other places to eat and shop, including a pharmacy which is helpful when your child spikes a fever.
Another favorite find for dining around Kauai with kids was Puka Dog in the Poipu Village Center. Puka Dog had some amazing Dogs (Polish sausage or veggie) with tropical toppings, the dog being secured in a hole in the center of the buns. Great find for easy dining with kids!
Tip:  for more ideas of how to find great food on Kauai, check out our article about dining around Oahu, which includes ways to find authentic local cuisine and off-the-beaten-path dining options.
Where to stay on Kauai with kids
Traveling with nineteen month old twins finds us looking for places that help us with their schedule. This often includes pools for some fun, a kitchen so we can cook meals, and laundry when available. We were able to find all of this at Koloa Landing Resort in Poipu/Koloa. Just a 25 minute drive from the airport, Poipu/Koloa is on the southern side of Kauai.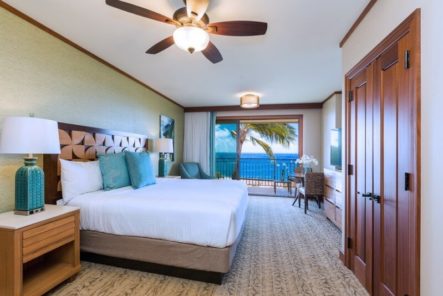 photo from KoloaLandingResort.com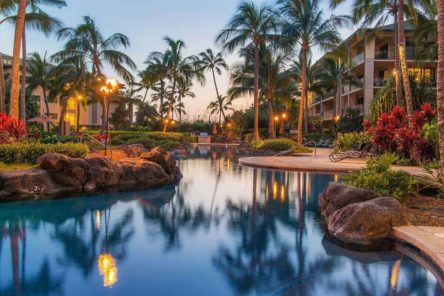 photo from KoloaLandingResort.com
In addition to the amazing pools on property, there is also a spa, dining options, and a luau that can be booked (these aren't included in standard bookings).  Overall, it's a very family friendly resort and does offer the best of what you'd expect of a Hawaiian retreat.
Tip:  if you're looking to stay in a different style of resort or in a different part of Kauai, check out more options below (search box) but remember, always take a few minutes to read reviews and look at guests' pictures, as that can really help you determine if a property is right for your vacation.
Kauai was very laid back and friendly. We can't wait to go back to see the other sides of the Island including the Nāpali Coast for epic mountains, more hiking, and definitely some zip-lining! Perhaps, when the kids are a bit older and can enjoy the more adventurous side of the Kauai.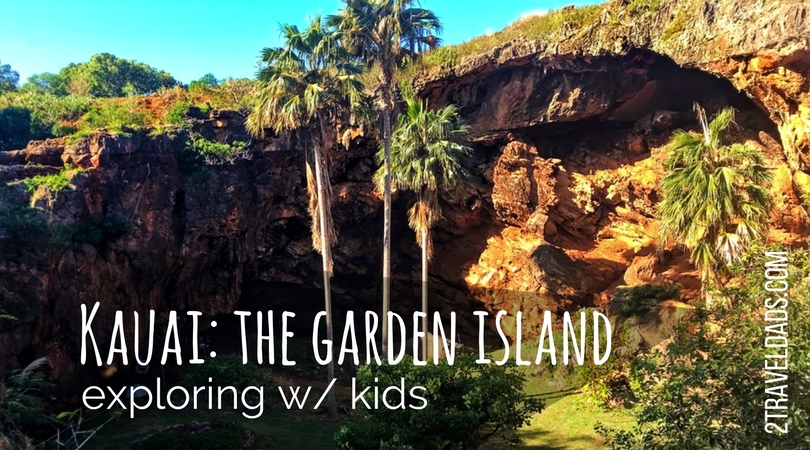 Want to pin this for planning your own escape to Kauai with kids? Go for it!!!
Check out Andy's writer profile here!
Can you spare a share?
Comments are closed here.