Disneyland with a toddler: 6 things to know
Can you spare a share?
I've loved Disneyland my whole life and can remember my very first trip when I was 4.  I have worked there and spent countless hours in the park as both a cast member and guest.  I've assisted so many families with little kids and helped to make magical moments.  And then we took our own child there.  Disneyland with a toddler is an interesting experience and varies greatly from going with adults… or from what you remember as a kid.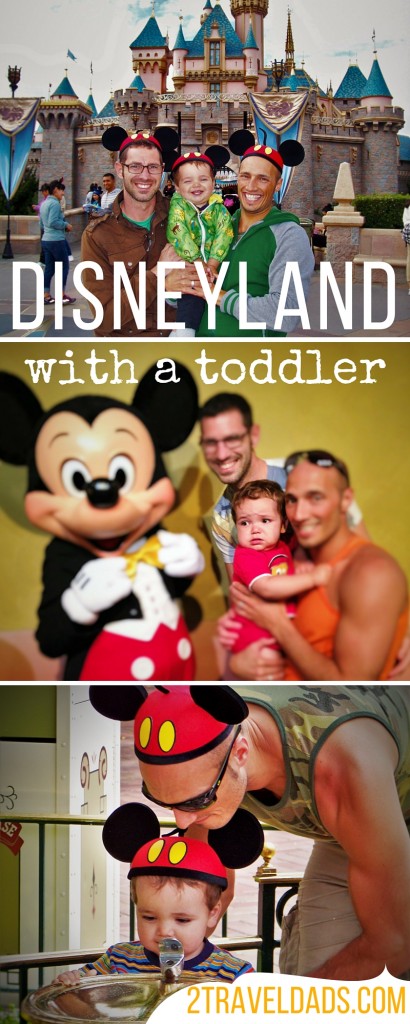 So, every aspect of Disneyland isn't for every child at every age.  Learned this.  We took the Panda when he was a year and a half.  You know, he'd seen Mickey and friends and we read stories about all of the characters.  As a super smart toddler, I figured that he'd be into most things since they're familiar; not coasters and villains, but most things.  Nope.
He was really into running around.  He wasn't so much for the smaller, Fantasyland rides, but just for the running that you could do between Mr. Toad's and the carousel.  The running was fine, great exercise.  He was not into waiting in lines for anything.  And well, it's Disneyland so there are lines 90% of the time.  Oh well, he was a champ and was super patient.  Also, just because a toddler says yes, he'd like to experience the thrill of the Tea Cups…that's a lie.
Tip:  don't trust a tiny person begging to get sick.  They may say they want to spin around in a tea cup.  It's a total lie.
Overall it was a great trip.  Not too tiring, but not boring.  We'll save you some time and tell you the six things we learned for our next Disneyland trip with kids.  And now that we've got two kids, maybe Disneyland with a toddler will happen again!
What you'll find…
Stay Close to Disneyland
I'm not saying that you need to book a room at the Disneyland Hotel or Paradise Pier, but it's worth it to book a hotel that is within easy walking distance.  I say walking distance because even though there is the oh-so-convenient ART to get you home, you are dependent on ART's schedule and trolley capacity.  When you've got a tiny person on their last leg and it's either getting them to sleep or ruin everyone's day, you need to be in control of how quickly that can happen.
Also, if there is more than just you and a little person, try to book something with a nice pool so others can chill too.  No matter how excited you are to be at the Happiest Place on Earth, others might need a little break.  The Park will be there after you chill for a bit, which is why it's nice to be as close as possible and really take advantage of that flexibility. see our Disneyland travel planning tips
Tip:  there's no shame in splitting up your travel party so that other kids/adults can continue with the magic while tiny ones heads to bed.  Disneyland with a toddler is all about balance and sharing the responsibilities…errr… experience.

Tip 2:  if you book something that's more than two stories, ask about the view.  You may be able to steal a view of fireworks if you're not still in the park for them.
Meeting New Friends in Disneyland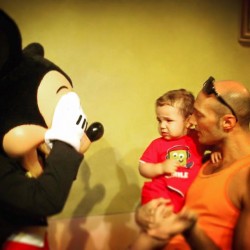 Mary Poppins is so cool to meet.  So is Lightning McQueen.  Mickey, not so much if you're tiny and confused about an enormous mouse.  As kids get older it is more cool and exciting to meet characters, but really young kids just don't get it.  I've witnessed it as a cast member and as a parent.  If the child can see a human face they'll engage and be thrilled.  Meeting a star so grand as Mickey, well, that's scary and intimidating.  Don't be bumbed if your son or daughter bursts into tears.  It happens.  Prep them for who they're going to meet and don't push it.  If it's too overwhelming for them, forgive me, let it go.
Tip:  face characters (Mary Poppins, Peter Pan, Tinkerbell…) are great for little kids because they can talk and take away the scary factor, and chances are that a toddler will recognize them enough to want to engage and even introduce themselves.

Tip 2:  ridiculously pretend characters (Lightning McQueen, Mike and Sully from Monsters…) are also fun for kids.  They can't talk, but they aren't something that is so real that tiny people are thrown off and frightened.  There's a fine line between scary and cool.

Tip 3:  DON'T RUIN THE MAGIC!!  Don't spoil your child's future fun by telling them that Mickey's not real or something.  It's better to walk away than ruin a little kid's fantasy, even if they don't know that they'll be excited to meet Mickey in the future.  And you don't know what other little kids are listening nearby.
Cutting the Queues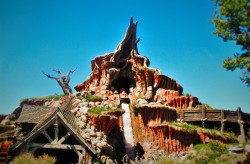 Wow, that sounds bad, but I'm talking about the right way and wrong way to wait for attractions and entertainment.  Nobody likes to be waiting for Splash Mountain and then right before you enter the old mill have a family of ten jump in and join the solo man in front of you.  Waiting is a team effort.  If you've got a little person that needs to run around and maybe meet Pooh while the rest of you are still wrapped around the bridge going over the final flume at Splash Mountain, that's cool, but don't irritate the people behind you.
Tip:  bring a grandparent or auntie/uncle.  True, your trip to Disneyland may be intended to be all about the kids, but you know what, you'll get there and be shocked at how much of a kid you still are and you'll need to go on rides.  Best setup:  3 adults and X number of kids.  It's a golden way to do it.
Nothin' Wrong with Nappin'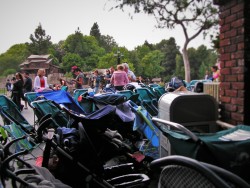 For realz.  I used to criticize the strollers in Disneyland.  Now that I've needed one in the park myself, I can completely understand it and am thankful for them (from a non-parent perspective too).  I've mentioned how our son liked to run around a lot, totally true.  He also still needed his naps.  Vacation mode doesn't turn on so easy for kids.  Life still needs naps (at least in our family).  Strollers are great places to nap.  Having a stroller in Disneyland allows parents to put their kids down and get some rest without leaving the park.  They can keep walking around and enjoying the sights or they can park out on Tom Sawyer Island and relax too.  I know, I know.  It's frustrating trying to slink past the caravans of strollers on a busy day, but it's worth it so that other guests don't hear crying and whining.
Tip:  There are lots of great nap spots in Disneyland and California Adventure.  Tom Sawyer Island is the quietest and most comfortable.  There is a really nice spot at the end of downtown Radiator Springs that's great too.  And Bugland.  Bugland is the best for relaxing and feeling like a bug.  See, Disneyland with a toddler is totally doable!

Tip 2:  Napping is another good reason for booking a hotel that's close by.  If you're staying close, you can have a better nap time in a hotel room than in a stroller.  No shame in napping, for either kids or adults.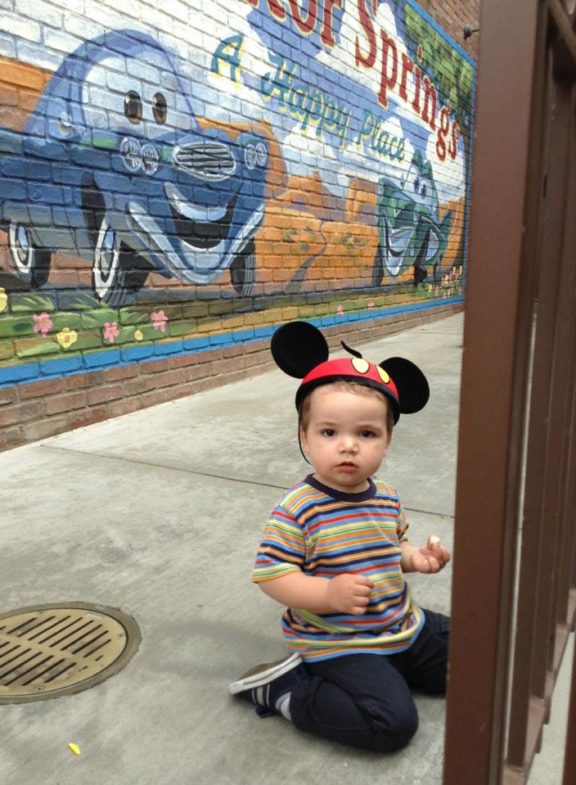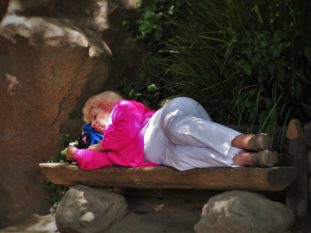 Everybody naps in Disneyland at some point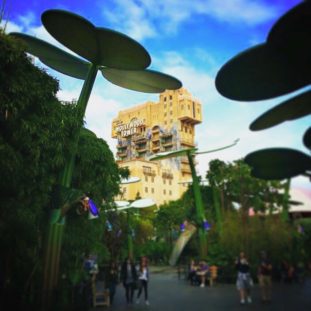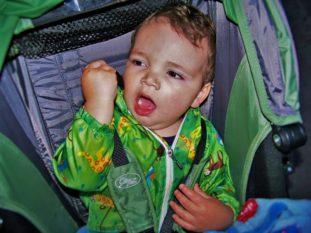 Chow Time in Disneyland with a Toddler
Feel good about bringing your own food into the park.  Don't bring a backpack of bananas or something (that's gross and it'll be squishy) but do bring apples, crackers, squishy applesauce packs, beverage holder/cups.  Whether you're in Disneyland on a budget or not, you never know when your tiny friend is going to need a snack and waiting in line… or when walking a mile to a preferred snacking area just isn't an awesome choice.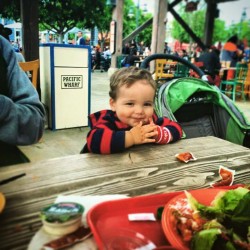 Having said that, meals are a whole different ball game.  I feel like meals in the park are a must.  It'll be costly, that's true, but it'll guarantee some much needed chill time and sustenance beyond a frozen banana and popcorn.  Know that you'll need to sit down and eat and be cool with it.  Disneyland is a budgetary stretch for many, but planning for eating meals in the Park is really something to consider.  I'm not saying it'll be the best food ever, but between the convenience, the fun and the selection it's not a bad idea at all.  Disneyland with a toddler is much easier when you don't fret about dining.
Tip:  quick service restaurants are great for things like chicken strips and fries, not gourmet lamb burgers with chevre and compote.  Have realistic expectations about what you're getting.

Tip 2:  there are good places to eat in the Park where the atmosphere counts for everything.  The Blue Bayou is the most fun place to eat since you're actually IN Pirates of the Caribbean, but there are other options too.  Actually ask a cast member for help if you need to.  Again, no shame in asking for help; that's what all of those cast members are paid for.

Tip 3:  character dining is really fun and amazing for kids… and adults…
When Rides Don't Cut It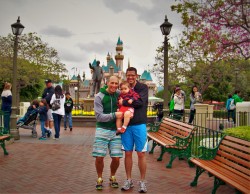 Ask a cast member for options when you don't know what to do and just can't wait in line again.  They've got so much magic up their sleeves, they'll take care of you.  We loved being able to take advantage of Big Thunder Ranch and petting goats and such… but now that the ranch is gone, you'll need to use the knowledge of the cast members to find a good place to let your little person chill and get excited about what they'll do next.
Also, did you ever notice how many parents there are in Disneyland and how many of them are doing Disneyland with a toddler?  Ask a fellow parent what they've done to make their day easier.  Because the Park is always changing and there are times that certain areas may be closed, it's worth pinging the other people who are facing the same obstacles as you and pooling your knowledge to ensure that family travelers all have awesome Disneyland visits.
Tip:  remember that strategically placed throughout the Park there are theaters and spots to just chill.  There's the odd gallery or two and people watch is a prime activity in Disneyland.  It's okay to relax at some point in your visit and just chill.
We hope this is all helpful.  If you've got other tips or feedback, leave it in the comments.  We all know things that others don't and if it's going to help somebody out, share it!
And check out our other Disney travel posts as well.  We've got guides for each of the parks and loads of ways to plan your best experience!
Can you spare a share?
10 Comments
Great article and thanks for the advice! I have been doing my utmost to avoid bringing my little ones to a Disney location (I'm not a big fan of crowds or lines) but my in-laws will break down that wall at some point and I'll be forced to confront my destiny.

Thanks for the tips on nap places especially. I'll be needing those 🙂

December 12, 2015 at 5:22 am


Great article! I definitely like your advice about meeting the characters! A huge mouse face can indeed be very scary for a toddler but it's only because you pointed out why that I became aware of this 🙂 If you ever would go to Europe, I know a beautiful theme park that toddlers and young kids would love in the Netherlands. It's called the Efteling. It tells the stories of European fairy tales. Kids love the magical forest (so do I as a grown up). The park has lots to offer for adults, children and the little ones!

April 8, 2016 at 3:07 am


Disneyland with toddlers, I remember it well! I do miss the midday napping. Our boys want to ride the rollercoasters all day without a break : )

April 8, 2016 at 5:58 am


Disneyland is always a great fun experience and with children its on a different plane altogether.

April 9, 2016 at 12:20 am


Well written. A lot of these tips and advice are going to be so useful – for not just family with toddlers but in general.

July 14, 2016 at 10:51 pm


Awesome post and what a wonderful trip. Looks like such a blast! I will absolutely be remembering these tips for the future! Thanks for sharing. What a beautiful family you have!

October 24, 2016 at 10:50 am


Kathy Perkins

We took our daughter for the first time at age 5 and discussed what rides she might like or not. We decided to get on the jungle cruise first because she loved the zoo and animals but the first time a hippo came out of the water she screamed! Same thing as you stated with the full mask characters. After a full day in the park she finally let us take a picture with Pluto! I love that picture.

November 15, 2016 at 2:16 pm


I appreciate for your blog post. Thanks for sharing. It awesome place for spending holiday and its life time remembering moment who wish to travel there .

August 8, 2018 at 10:08 pm